To Stop the Spinning
It's happening again: this life racing by like Dale Jarrett. So I -- again -- chase it, snatch it, little snipets to hold on to, to pull like an emergency brake and slow me down. Because I need to spin more slowly, I count:



(Melody spnning a hydranga blossom.)
404 ~ the smell of Starbucks morning buns early on the way to church
405 ~ a mother-daughter-friend banquet with my mother, my daughter, and a friend
406 ~ the home stretch
407 ~ phone conversation with an on-line friend
408 ~ being brave to ignore fear and chase dreams
409 ~ chamomile tea
410 ~ a week of prayer
411 ~ a voice at the other end of the line when the alarm sounds
412 ~ anticipating summer
413 ~ coming home to the sound of son and daughter singing at the piano God's praise
414 ~ a date night to look forward to and being appreciated
415 ~ the warm spot on Mike's side of the bed
416 ~ a kid arguement that end in a giggle fest, a sweet grace
417 ~ tea party with strong
tea
ching
418 ~ a fresh lesson in amazing grace
419 ~ missing Dad
420 ~ this: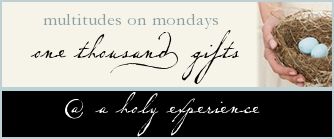 I never want to stop counting my gratitude, grace, joy ....