September 12th
I drive in to the office and see the flags from the federal building and the Veterans Affairs Administration Building that flank both sides of my car just like I do each morning. Red, White, and Blue sentinels unfurl in the cool breeze of morning at full mast today, and I feel relief.

Remembering is our duty and desire. But when I am severely stricken, words just don't come. When tragedy forces us down under its dark and dusty crush, my instinct is to listen and not speak.

So yesterday I watched horrific images again and heard sorrowful reflections on that day in silence, just as stunned as a decade ago. Tears are all that escaped me — again. A decade has not helped me make sense of this day.


Could it be because we were not created for death and destruction? That God placed us here in a Garden to commune with him eternally? We are alien and stranger to these things of this Fallen Earth; sorrow and despair speak a language I don't speak.
So today, September 12th, our duty to keep tragedy company behind us, I fill with relief and a desire to speak my native tongue. I let gratitude be the familiar words that guide me back to the place of Hope, Rescue, and Relief.
#510 – 529
~ heart-shaped rocks painted red
~ mother-daughter love
~ American armed forces that fight for freedom
~ Chris's dress uniform on Sunday
~ a budding rap artist with an upcoming audience
~ big dreams from young kids
~ grace for a good girl coming next weekend
~ a shopping date with daughters
~ African stick figures that herald good news even from a Muslim-dominated terrain, a gift of the Gift
~ still not knowing what to do with that fateful day
~ taking stock of the past and finding much contentment there
~ someone to walk with through this life
~ kisses at the refrigerator door
~ 11 in a living room
~ talk of Mary in September
~ plans for next year
~ early morning productivity
~ edits from a new friend
~ beautiful Fall temperatures
~ flags, and spirits, flying higher again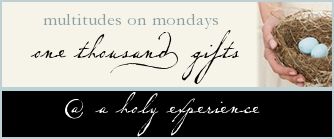 ~ Counting with Ann today ~