I hate it when people die of cancer in the movies. It hits a little too close for home. Sort of like fatal car accidents.

Now those are irreconcilable differences.

If my title made you think of divorce and not cancer and car accidents, I can understand. It's the number one reason listed for most divorces in courtrooms across America. Divorce paperwork has had to fell at least a rain forest worth of trees as the divorce rate climbs and no demographic is immune. Divorce court is an entire industry making a killing (pun intended) on irreconcilable differences.


The differences part I get. People are as different as their fingerprints and snowflakes. No two life experiences are exactly alike. In many marriages they're not even remotely alike, and, in either case, I can see the need for a dance, an ebb and flow to make something beautiful.
Two separate entities are lessening to become a mere one, but it is somehow more instead of less. It's a mystery because it declares the Father's love for His Church-Body-Bride. And how he loves every inch of us. If you don't believe me, just read Song of Songs -- it documents the Love of loves. And we're supposed to be earthly illustrations of that Love, us husbands and wives. He even died to become one with us.

But we're different, so it's hard. Two becoming one takes more chemistry than the first date: pressure, fissure, fission, shedding, dying, living, surrender. That's quite the ebb and flow, and most of us have never had dance lessons, so I get the differences thing. I really do.
But I also know it's a beautiful thing to get to the other side of that dance to
abject oneness
. It's a wholeness that's more than oneself, yet something that wouldn't be at all without the offering of that self. It's beautiful, and it's worth it.
But, these days, when two don't make it to the other side, it's called irreconcilable. And that's the sticking point for me.
My mom and dad divorced, and it made me
vehemently never want to be
. My husband has come
close to death
enough times for me to know that whenever Death really does take him,
it will be too soon
for me (unless, of course, it comes for me sooner).
Death is an irreconcilable difference.
Life is not.
Not when there's a cross, and a hanging Savior. Not when blood and water flowed for our falling short, our selfish desire to live instead of die to the flesh.
I admit there is a crisis when we come face to face with our own inability to become less than the one we were, in order to become one with another. It's more than Fallen Man(kind) is capable of, this self-denial. It says so plainly in Genesis chapter 3.
And citing irreconcilable differences is asking to be excused from giving an explanation. But even I feel due one; it's not my divorce, but it's hitting too close to home, like movie-set car accidents and cancer victims. When family members give up on their marriage, I feel it. When I call and get no answer, I feel divorced. When we talk, and it's vague, I feel our differences.
But divorce doesn't have to be irreconcilable. Cancer and car accidents and death certainly are. But divorce doesn't have to be.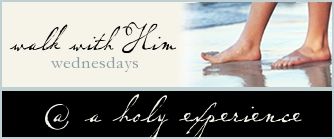 More thoughts on marriage as I walk with Him.